60CM * 100M Self Adhesive Window Protection Film Clear Glass Protect Cover
window glass protective film mainly used to Surface protect, such as windows ,glass Surface protect.The PE protective film is a important product for the buliding material industry. It's economical, environmental,widely applicable protective film.It can Effectively prevent scratches and anti-dust.
60CM*100M Self Adhesive Window Protection Film Clear Glass Protect Cover
Description
---
Specifications
---
1. Description: protective film for window/glass, clear color or blue color, regular wound, protection for residential and commercial window glasses.
2. Material: LDPE film coated with pressure sensitive adhesive.
Backing: PE (Polyethylene)
Adhesive: Water Based Acrylic Pressure Sensitive Adhesive (it is also called Formulated acrylic proprietary adhesive).
3. Item No.: Shire-190113
4. Total thickness: 1.5mil, 2mil (50micorns), 60micorns, 70micorns, 3mil (75micorns), 80microns, 90microns, 4mil (100microns).
5.Size: 20mm-1560mm(width)x 20-200m(length),for example, 500mmx100m,600mmx100m,1000mmx100m,610mmx200m or others as your requirement.
6. Color: transparent or blue color, or other color as your requirement.
7. Paper Core: 1.5inch, 3inch
8. Printability: 1-2colors to be printed with your logo or other information.
Technical data
---
1. Adhesion: ›1.2N/25mm, 8.0 oz/in normally.
2. Tack:7# Steel Ball
3. Cohesion:›72hours
4. Tensile Strength: ›18MPa, 2000psi (13.79Mpa normally).
5. Elongation at break: ›350%, 400 %( normally).
6. Product shelf life is 18 months from date of manufacture under normal conditions of
Benefits
---
Protect any glass surface
Window protection that is highly translucent – allowing natural light flow
Window film protects any glass surface during construction and re-modeling phases. WindowWrap also protects glass, plastic, aluminum, and finished metal
Window protection that eliminates scratching and clean up costs
Low-tack adhesive keeps WindowWraptm window film in place
Heavy duty glass protection protects windows with UV resistance for up to 60 days
Processing 
---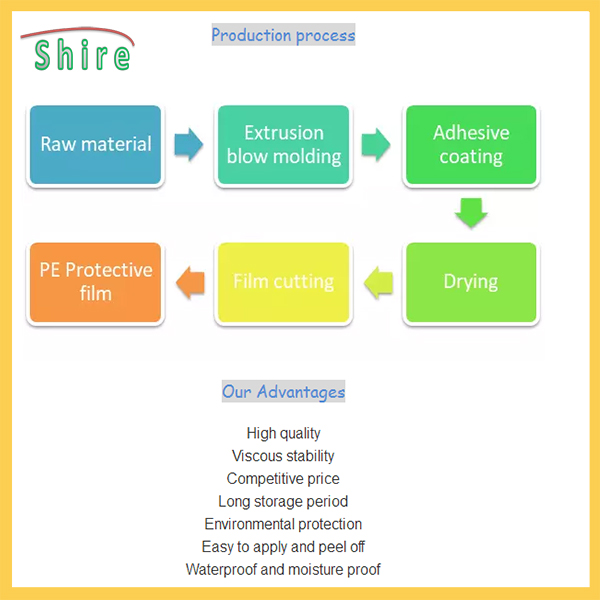 Picture 
---
Company Information Our Services
1, 24 hours Timely respond and online contact is available.
2, All your questions Can be handle by professional sales
3,Free sample .
4, Your business relationship with us will be confidential to any third party.
5, Good after-sale service offered.
6, Quality problems in full compensation.  
Contact 
---
Sophie Liu
E-mail:Sophie@shire-plastic.com
Phone/Wechat/Whatsapp:+0086-13645832408
Skype:sophie679247