Blue Color AluminumSheet surface Protective Film Anti Scratch PE protective film
aluminum steel protective film aluminum plate protective film color steel surface protective film ,this kind of film is for anti-dust and anti-damage when in production and transportation.
Blue Color Aluminum Sheet surface Protective Film Anti Scratch PE protective film
---
Our Blue Color aluminum Sheet surface Protective Film Anti Scratch PE protective film used to protecet the surface of variety kinds of metal sheet surface ,it offers good elongation property,stable adhering capacity and ease of use. It won't leave any sticky residue on the surface when removed. This film is widely used for protecting polished surface, frosted surface, brushed surface, and heat-tinted surface of aluminum panels in the process of transportation, storage, processing and installation.
Technical daters of PE protective film
25-150 MIC PE PROTECTIVE FILM
PROPERTIES
UNIT
DATA
SUBSTRATE
LDPE(Polyethylene)
TOTAL THICKNESS
mm
0.025-0.15 mm±10%
ADHESIVE TAPE
Acrylic
COLOUR
Blue
DENSITY
g/cm3
0.925
ADHESIVE
5-800g/25mm
STORAGE
degree
-10℃ –45℃
RALATIVE HUMIDITY
﹪
80±10﹪
BACKING TENSILE STRENGTH (LONG)
N/25mm
>16
BACKING TENSILE STRENGTH(TRASV)
N/25mm
>12
ADHESION TO STAINLESS
g/25mm
5-800g/25mm±10﹪
STATIC SHEAR 50℃
Hours
>48
ELONGATION AT BREAK-MD
﹪
>200
ELONGATION AT BREAK-CD
﹪
>350
SHELF
Month
6 months
APPLICATION OF SURFACE
STAINLESS SHEET ,Plastic sheet,Windows & Doors PVC Panel , PVC Foam Board , UPVC Profile, , Polycarbonate Hollow Sheet , EPS Sandwich Panel , ACP Aluminum Composite Panel.
Application
---
Blue Color aluminum Sheet surface Protective Film Anti Scratch PE protective film ,There are many different reasons why you may need surface protection film. Surfaces can be damaged during:
1.Dry-walling
2.Sanding
3.Sawing
4.Polishing
5.Painting
6.Assembly
7.Shipping
8.Handling
9.Storage
10.Installation
Production Processing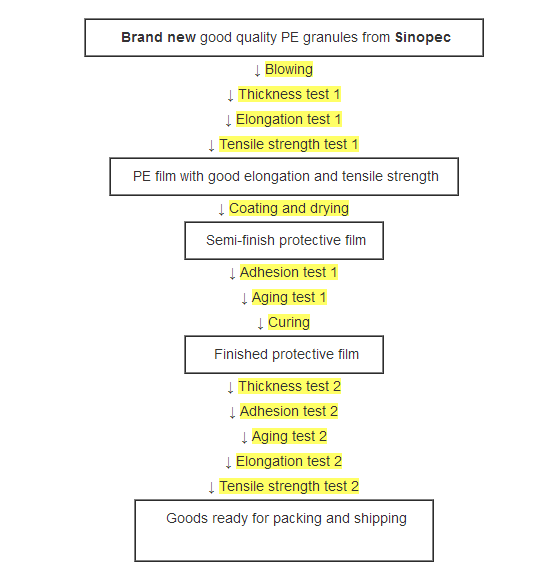 Features
---
1. Shire Blue Color aluminumSheet surface Protective Film Anti Scratch PE protective film is Durable, recycable,health & safe;
2. Protect your product surface from pollution, damage & UV
3. Improve your brand image by having your logo & contact details on;
4. Easy to apply & remove, no adhesive residue after removal;
5. Hot-temperature endurable, anti-aging
6. Stable adhering capacity and Special easy-peel
7. Leaving no residue glue or trace on the target surfaces
8. Protect the surfaces not to be polluted, corrode, and scratch during the process of produce, transport, store and installation
9. Production scale: 9 production line;1600 mm maximum production line
10. Shire Galvanized Steels Rolls Protective film PPGI & PPGL Rolls Protective Film can offer 6 color over print
11. We have the whole production line (blow molding, printing, coating, cutting
Pictures
---
Our Services
---
1, 24 hours Timely respond and online contact is available.
2, All your questions Can be handle by professional sales.
3, Free sample.
4, Your business relationship with us will be confidential to any third party.
5, Good after-sale service offered.
6, Quality problems in full compensation.
Sophie Liu
E-mail:Sophie@shire-plastic.com
Phone/Wechat/Whatsapp:+0086-13645832408